Anna Christina (Andersson) Dahlin,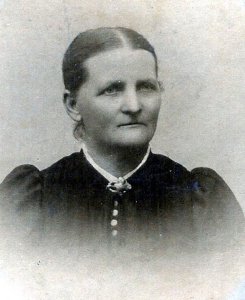 Carl's mother Anna, described as a, sweet, gentle, dainty women with a lovely singing voice lived a long and difficult life.
Anna was born Aug. 8, 1845 in the small village of Nöttja that is in the southern Sweden province of Småland. Her father's occupation is unknown but the family must have been fairly well off for the time and area. This assessment is based upon an observation made by a cousin, Jim Huntley who was there in 1948. Jim indicated that Anna's father was sort of a country squire, because his house was definitely bigger and grander than the others in the area. Huntley also speculated that Anna's father probably had some peasants working for him and maybe was in some kind of business. A family tree of the Andersson family in the Nöttja area has been traced backed to the early 1700's. The old amateur Swedish genealogist who did the study stopped at this date because he found out that a lady at the Kings court had a liaison with a common soldier and fathered one of Anna's ancestors. The genealogist said " I did not want to go any farther, if things like that were happening!"
Anna was the oldest of nine children. Anna and her sister Gustava were both schoolteachers. Gustava and Anna taught in the village of Angelstad that was several miles from the Nöttja family home. The girls walked home each weekend and returned to the school with food their mother packed for them for the school week. With the exception of Gustava, who became a respected schoolteacher, Anna and all of her siblings ended up living in the United States.

Assuming the records are correct, Anna married the tanner Eric Dahlin on her thirtieth birthday. At that date in 1875 Eric would have been 33 and had two children, ages four and five, from a previous marriage. Erik and his first wife, Emma Charlotta Wilhelmina Rydell were married September 1870 and she died June 28, 1874 in Ljungby. Anna and Eric named their first child Emma who was born in January 1877.

March 1884 had to have been a devastating time for the Dahlin family because during that month three children died of scarlet fever. One can only image the heartache and grief Anna had during this hopeless March, desperately nursing these ailing children, watching three die and attending three burials all within a month. Anna age 3 years, 11 months died March 9 and was buried March 12; Gerda age 1 year and 26 days died March 17 and was buried March 21 and Selma, Anna's stepdaughter age 12 years, 3months died March 29 and was buried April 4, 1884. In addition too the agony of having three children die, Anna had the welfare of three young children to look after; this included, her stepson Gustaf age 13 and her own two children Emma seven and Werner six. It is not known if the three surviving children contacted the disease but, at best, it must have been a constant worry for Anna. Prayers of plea for family intervention must have been common during those long Scandinavian nights since evidence exists that Anna and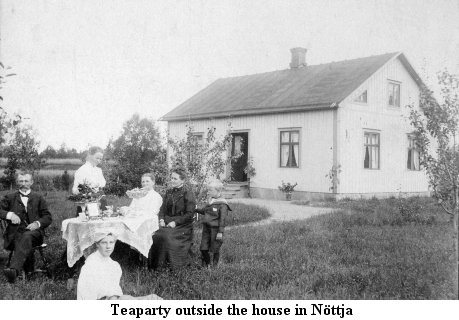 Erik were deeply religious.
Note: Three Scarlet fever epidemics occurred in Sweden during the late nineteenth century, one was during this period. Recent studies suggest that food shortages and malnutrition as a leading contributor for these epidemics. However, no firm evidence is available to link the Dahlin family to this cause. What is known however, it that Småland because of its harsh and rocky soil has been identified as likely the poorest place in Sweden for agriculture. Two stories underscore this observation. One is an old Swedish myth that states when the Lord was busy making the beautiful places in Sweden the devil sneaked in and transformed the area into a desolate place crowed with stones and woods. By the time the Lord caught up it was to late to change. The second is that when someone born in Småland is put on barren land with only an axe he would manage to have a garden within a week.
It is also worth noting that during the nineteenth century, because of the poor conditions Småland was if not the major, a major source for Swedish immigrants to the U.S. Independent of the potential impact of food shortages, the Dahlin family did have an apparent advantage over much of the local population. Erik either operated or owned a small tannery and the house they lived in Nöttja, still in use, as apparent from a 2006 photo, is a lovely little bungalow.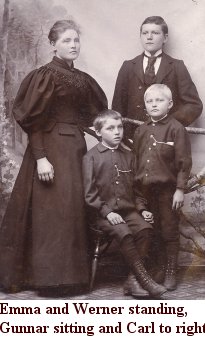 A son Gunnar was born the next year in July 1885; the arrival of a newborn might have helped stifle the grief of the previous years deaths, but it could have simply added more burdens to the family. Another son, Carl was born in September of 1887 when Anna, then 42, would have been quite an old age for childbearing.
Church records from the old Nöttja church indicated that the family came from the parish of Ljungby in November of 1876 and moved back to Ljungby in October 1891. All of Anna's six children were born in Nöttja including their last child Karl [Carl] born September 27,1887. Eric's two children from his first wife were born in Ljungby.

The year 1890 must have been a mixed year for the Dahlin's because Eric bought the Ljungby tannery; but his oldest son Gustaf, then nineteen, died in February of that year from consumption. . Since Carl would have been two years old when his stepbrother Gustaf died it can be understood why he only acknowledged his three older siblings Emma, Werner and Gunnar.
A cousin Inga Lisa Eriksson grew up in Ljungby and knew the Dahlin family well. Her grandmother Gustava was Anna's sister; She described Anna as a very sweet and lovely lady with a beautiful singing voice. Inga Lisa recalled family and friends getting together on Christmas for singing that was accompanied by accordion and a flute. (Not sure if Anna played one of these instruments.)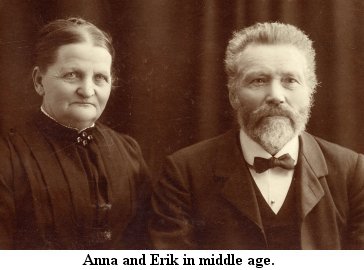 In later years Anna and Erik lived in the old Dahlin house that now was Werner's home.
Erik, then age 82, died December 28,1923 from arteriosclerosis and Anna continued to live alone in the Ljungby apartment. Reportedly, she was very lonely and apparently, at a later date, agreed to move to Jamestown New York and live with her only surviving daughter Emma [Dahlin] Gunnerson. Her loneliness after Erik's death can easily be understood. Although her oldest son Werner lived in Ljungby, Gunnar was in Stockholm and both Anna and her youngest child Carl were in the United States. Carl may not have seen his mother since 1905 when he was drafted into the Swedish Navy followed by his 1910 immigration to the US. Carl was in France as an American soldier during 1918 and early 1919. Why he did not visit his parents during that period is an enigma.
Preparing for her trip to the United States Anna stayed with her son Gunnar for a month in Stockholm. Gunnar's daughter Ingrid, then about nine, described her grandmother as a small, dainty and kind lady. She also recalled her grandmother knitted her a pair of long woolen gray stockings that she wore in the winter. The stockings were very warm but itched terribly.
The local Stockholm newspaper reported that Anna celebrated her 80th birthday [She was born 8/8/1845] on the boat to the United States. So she must have arrived in Jamestown NY to live with her daughter Emma during August 1925. Anna moved with the Gunnerson's to North Dakota about 1928 and again with them to Richmond, Indiana about 1931. Emma died age 56 on Feb 12,1933 in Richmond but was buried in Jamestown, NY. Her youngest brother, Carl Dahlin attended the funeral.

Gunnar's wife Edith told their daughter Ingrid that from correspondence with Anna Kristina, Anna seemed to have trouble in the US. It is not known from what dates these comments came.
Shortly after Emma's death, Emma's husband David Gunnarson shipped Anna, approaching 88, to her son Carl's house in Syracuse New York. This was a real hardship for the Culbert St. Dahlin's because this was at the peak of the Great Depression and Anna arrived with no money. However, she did bring some limited keepsakes; two that still exist. This included her gold wedding ring and a sterling silver coffee set that may have been a wedding gift.[See note below on Swedish coffee]
Inga Lisa Ericksson underscored Carl's brother Gunnar's repeated anger toward Emma's husband David Gunnarson because he felt he took all of Anna's money and left her destitute even though he was financially comfortable (the Jamestown City Directory showed Gunnarson running a men's furnishing Business).
During Anna's stay, Carl, like many American's during the Depression, lost his normal decent paying job. In his case he was as a skilled metalworker. Instead, he had to accept his only option, a few hours a week federally subsidized pay during the construction of a local school. This consisted of hauling dirt and cement by wheelbarrow. His bosses were immigrant Italian bricklayers who barely spoke English. This had to be a humiliating experience for this proud Swede. To further underscore this pride, Gordon said Mom Dahlin would obtain welfare bread without Carl knowing and conceal it using standard bread rappers. This is only one example Mom Dahlin used to help with limited finances because she knew Carl was too proud to accept welfare handouts.
Lack of money was not the only handicap with Anna's arrival. Anna could not speak English and nobody at their home but Carl could speak Swedish. All of Carl and Grace Dahlin's children recall Mom Dahlin indicating how difficult it was because only Carl could communicate with Anna. Further, Anna was very anxious to see Carl when he came home after work so she could talk with someone. More importantly, Mom Dahlin often chastised Carl for not teaching the Children Swedish. They all learned a few Swedish words on their own but Carl was adamant. He wanted the children to be full American's and not tainted by a foreign language.
It is curious to note that Carl did not become a naturalized American citizen until February 24,1933 which would have been about the time Anna arrived on Culbert St. Why he waited until that date, particularly because he served in the American army during WWI is unclear.
Some memories by Carl's daughter Vivian who was six years old when Anna arrived and son Gordon age 9-10 during Anna's follow:

Vivian , "The house on Culbert St. had only two small bedrooms. The boys had a make- shift bedroom in the attic and had to pass through my bedroom to get into the attic. Anna and I shared a bed in this bedroom. Anna was a very loving person who often hugged me and referred to me as her "Svenska Flicka" that means Swedish girl. Mom had a Swedish translation book that she tried to help us learn some Swedish words but of course I could not talk to Anna. Thinking back all those years, I realize how heartbreaking it must have been for Anna, so close to me but not to be able to talk with her granddaughter.---- I still recall and am amazed that Anna's hair was still naturally brown and lacked gray particularly for her advanced age."
Gordon, "I remember letters arriving from Sweden and Anna writing, so I assumed she maintained contact with her family in Sweden. --- Some Swedish friends of Carl's occasionally came in to visit her and took her to church different times. --- She spent most of her time reading the bible and knitting. --- On some occasions Anna and Carl sang together in Swedish but I do not remember her playing the piano---I do not recall her doing any cooking but Mom learned to make Swedish meatballs and I would guess that came from her. ---My grandmother would often gently put her arms on me and try to talk to me but of course I could not understand her. Mom would often, on such occasions, remind Dad to teach us kids Swedish so we could understand her. However, with the exceptions of a few words he never did. --- At one point Anna had continuous watering or running of her eyes and I no longer saw her reading or knitting. From my observations and that of my parents I had the opinion that Anna was near total blindness. I understood that this was one of the reason's my parents, with some outside help, arranged for her to go to a Swedish old peoples home near Jamestown New York. ---I thought she stayed with us for about two years." Note her obituary suggests that it was nearer a year.
Gordon also recalled that shortly after Anna moved in, a piano arrived in a big shipping box. Gordon and his older brother Dick used that box for a long time as a play fort. He understood that the piano was sent to the family from the Gunnarson's. Vivian learned to play that piano. Also, about that time an old Anderson model car somehow showed up and Gordon assumed this was from the Gunnarson's. Gordon recalled that Carl and some of his Swedish friends painted the car and the paint did not dry. Carl did not drive but his buddies, probably under a little too much Dahlin home brew, took Carl and the car for a spin anyway. They returned several hours later after overturning in a cow pasture with the car completely covered with grass.
Anna spent about the last three years of her life at the Old Peoples Home of Frewsburg NY . Frewsburg is near Jamestown, a predominantly Swedish community. Mom Dahlin and Gordon both indicated that Anna was happy in the Swedish home because there were other Swedes there that she could talk to. However, Gordon did not remember any of the family members besides his father visiting Anna during that period. Jamestown would have been a full day's trip at the time and Dad Dahlin did not drive.
Anna, at age 92, died November 20, 1937. Carl's youngest son Roger, was born December 2, 1937. Anna's obituary mentions Carl Dahlin as a bearer at her funeral. The obituary also identified that her sons, Verner and Gunnar of Sweden, a brother Carl Anderson of Jamestown and a sister Augusta Berquist of Seattle, survived her. Anna is buried in Section 3 lot No. 327 of Frewburg's Maple Grove cemetery.
Sweden is a coffee-drinking country

Gunnar's grandson, Bengt Blixt provided the following commentary:
In former times you roasted your own coffee beans and ground it, later you bought roasted coffee beans and only ground it. Then to a kettle of water, you added a coffee-spoon of ground coffee for each cup and "one for the kettle" and brought the kettle to boil for some minutes and the let it stand for some minutes to let the coffee grains settle.
Then you served it taking care to avoid that the grounds (which you don't want to have) ended up in the cup. Usually you served the coffee directly from the kettle, but on special occasions when you had a party or prominent guests you served it from a ceramic or silver container. At this time you were a very poor hostess if you did not have seven different kinds of biscuits and cakes.
By the way the Swedish coffee is in general much stronger than what you get in the US.