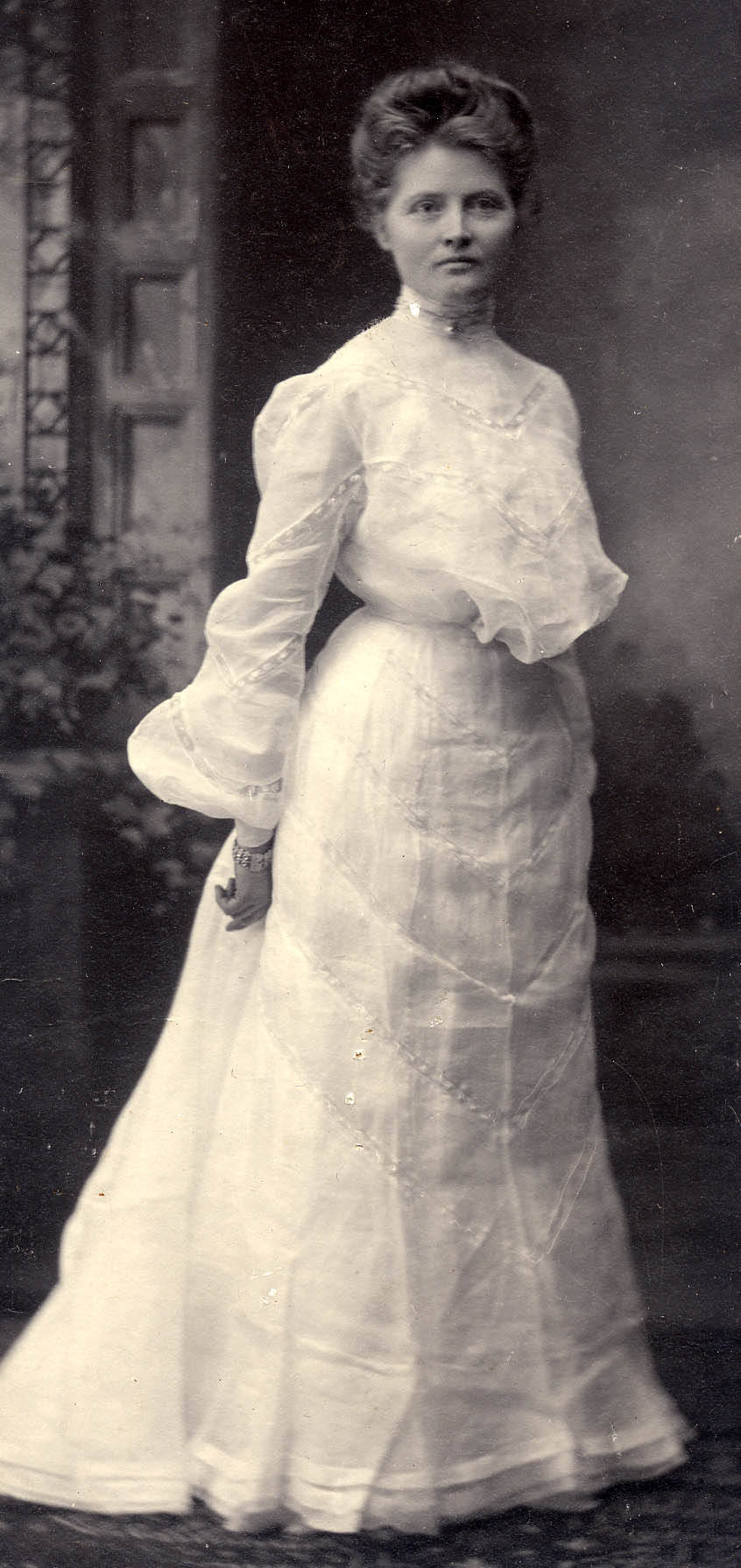 Emma Jenny Dahlin was born in the little Småland village of Nöttja in 1877 . Like her three younger brothers she was baptized in the old Nöttja church where her parents were married. Emma's mother's maiden name was Anderson that was a long established family name in the village. Her family moved to Ljungby in 1891 and while a teenager she emigrated to " Swedetown" USA where she later met and married a young Swede, from Stockholm, David Gunnarson. Emma became a US citizen and returned to her homeland on at least one confirmed visit. The attached photo is of Emma in her wedding dress.
Swedetown USA
Emma arrived at New York's Ellis Island October 27,1896. The ship [Berlin] manifest record indicated she was 19, listed as a domestic, and was assigned Room B main deck forward. The record also indicated that she had one piece of luggage and was headed to her Uncle Gustaf Anderson's home in Jamestown New York. Gustaf Anderson was the younger brother of her mother Anna [Anderson ] Dahlin.*
Jamestown is a city located in the northwest corner of New York State. Its earliest principal settlers were Swedes and by the 1920's Jamestown was regarded as the most Swedish in the USA. This claim that earned the title "Swedetown" was based on the fact that nearly half the population had a Swedish background. Jamestown's mayor in 1927, Samuel Carlson, had a Swedish heritage as well as had seven of his predecessors. At one point there were no less than forty furniture factories headed by Swedish Americans¹. The city was once called " The Furniture Capital of the World"²
Emma initially boarded with her Uncle Gustaf and his wife Marie who lived at 17 Center St. In 1903 she returned to Sweden and brought back her younger brother Gunnar. The 1903-1904 Jamestown City Directory shows Gunnar as a clerk working at 219 Main St. that was the location of Gustaf Anderson's men's clothing business. The Directory also states that Emma was working as a dressmaker and both she and Gunnar were living at Gustaf's Center St. address.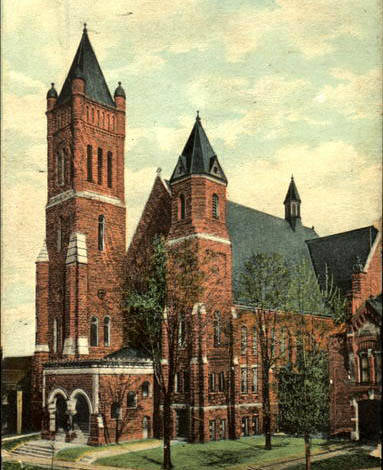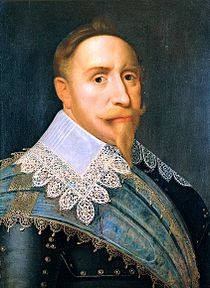 *Gustaf Anderson was a prominent merchant in Jamestown NY. He served on the school board for many years and was elected as a city alderman. He also was a member of the Swedish Men's Society, Knights of Pythias, and the Jamestown Choral Society. Further, most interestingly from a Swedish heritage standpoint, he served as a trustee for First Lutheran Church for 27 years and was treasurer when the present edifice was built in1901. Sermons in the church were conducted in Swedish until 1912, in both Swedish and English until the 30's and became all English in the 40's.
An article published in the September 2003 issue of the Swedish Press not only gives credit to Jamestown for being known as " Swedetown " but it also mentions that the First Lutheran Church is the only Swedish cathedral in North America. Further, the article notes that the church has a different trinity in three beautiful long stained glass windows. These windows depict Jesus Christ, Martin Luther and Gustav II Adofphus. [1611-1632 Greatest Swedish King and considered one of the greatest statesmen in European history] Images are of the present church located on the site of the original church built in 1866 and Gustaf Adolphus.
Courtship and Marriage
In about 1902 two Gunnarson brothers, David Teofilus age 19 and Andrew Martin age 25 changed their residency from Stockholm Sweden to Jamestown, NY. Their new living quarters for a couple of years were at 60 Chaplin St. and the city directory showed David working as a carpenter and Martin working as a clerk. During that time period Emma Dahlin was listed a dressmaker and living with her brother Gunnar at their Uncle Gustaf Anderson's home on 17 Center. Sometime during that period Emma must have met David Gunnarson because they were married November 25,1904. David and Emma had a daughter Elsa who was born July 22,1905. Elsa's birth certificate shows David working as a drug clerk.
The 1910 census exhibits Emma, David and Elsa, then four, living at 855 East Second St. and that David's brother Martin was living with them as a border. The census also shows David working as a merchant in a men's clothing business with Martin working as a merchant in a hardware business and Emma having no occupation. The 1911-1912 Jamestown City Directory displays David and Emma living at 57 Charles with Emma's youngest brother Carl Dahlin as a border. The Directory also shows David associated with a gentlemen's furnishing business called Gunnarson & Holm located at 112 North Main.
Somehow by this period David made the transition from a carpenter to the proprietor of a men's clothing business. How he made that transition is unclear. Perhaps Emma's uncle Gustaf Anderson helped him get exposed to this business and maybe Emma's experience as a dressmaker added to the development of the business.

Jamestown Gentry
By 1914 David had parleyed his footing in men's furnishing to team up with another merchant where they operated a Main Street business called the "Toggery Shop" or Gunnarson and Cederquist.
David was associated with the Toggery Shop until at least 1926 [The 1928 City Directory suggests he may have had a new partner and business name] David and Emma changed residences during those years but by 1927 they were living in a very nice two- story home at 423 Crossman*. That residence was still a very nice home and neighborhood in 2010.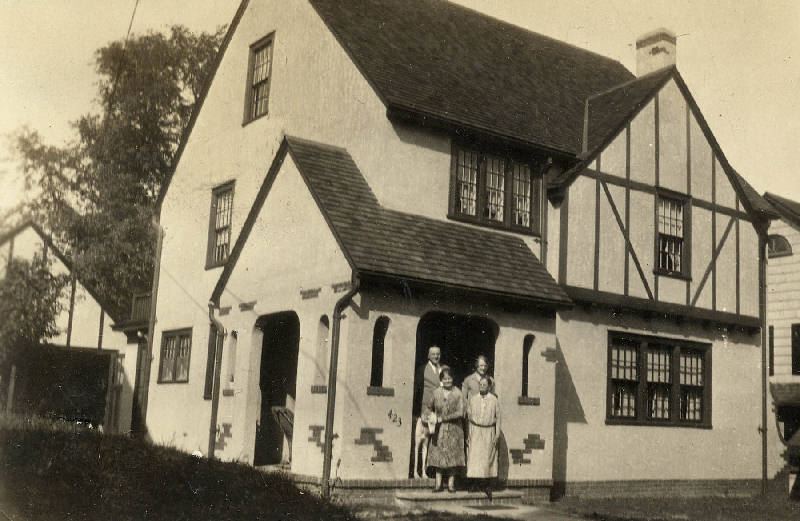 Emma was active in the Zion Mission Church for many years and organized its Deborah Society, of which she was the first president. She was also identified with musical circles as a singer. Her mother Anna at age 80 immigrated from Sweden and moved in with the Gunnarsons in 1925.
. Elsa graduated from Jamestown High School in 1922 and later graduated from college. Elsa is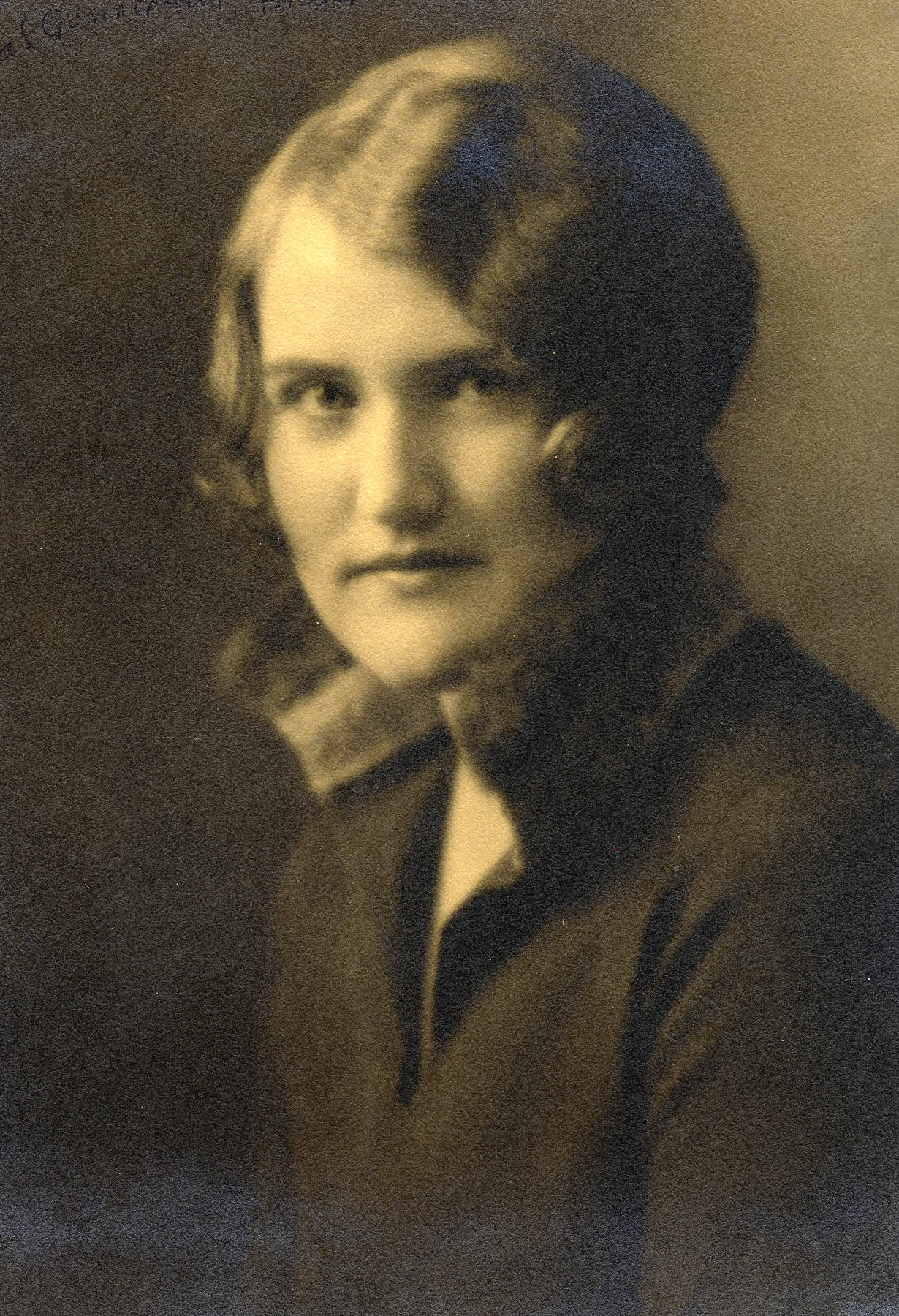 shown in the 1930 Directory as a teacher at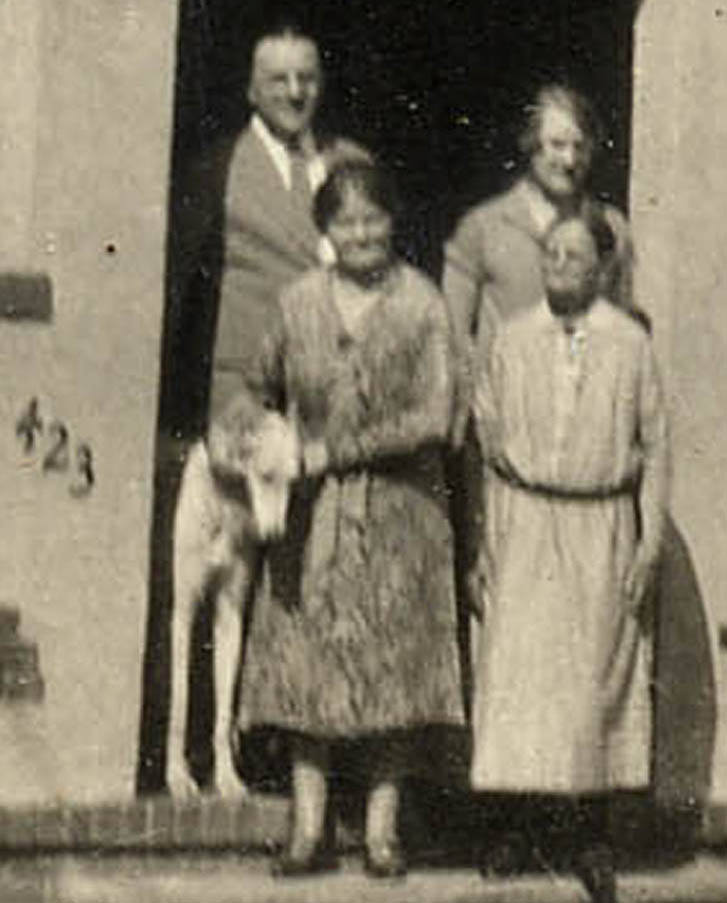 the Willard Street School. She later married Milton Bissell who graduated from Jamestown High School in 1924 and later became a respected Jamestown attorney. Milton served as Chairman of the Democratic City Committee for five years, was assistant corporate council and was a past president of the Jamestown Lions club. * Photo shows David and Elsa with Emma holding their greyhound dog next to Anna.
Westward Ho!
Sometime in 1928 or 1929 David, Emma and Emma's mother Anna Dahlin moved to Sioux Falls, South Dakota. How and why they ended up in South Dakota is unclear but surprisingly David, rather than being in the men's furnishing business, the 1931 city directory identifies him as a Sales Manger at the Sioux Falls Gas Company living at 1004 W 10th St. Further, the 1930 census shows David age 47, wife Emma age 50 and mother- in- law Anna Dahlin age 83 all with Swedish backgrounds and that David was employed as a commercial manager at a gas factory.
During late 1931 the family moved to Richmond Indiana. This move was likely based upon David getting a better job opportunity because the city directory shows David as Manager at the Indiana Gas Utilities Company.
Note: Gas processing plants from heated coal were common in European and USA cities dating back to the early nineteenth century. Initially, the gas was used for lighting and with the availability of electric lights cities began to use gas for heating. When natural gas pipes lines from the southwest were introduced in the late 1940's most American cities abandoned the more expensive gas processing plants.
Slow Trip Home
Richmond's Tuesday February 14, 1933 newspaper identified that Mrs. Emma D.Gunnarson, 53 years old, died on Sunday night at her home, 24 South Twenty-First Street. Mrs. Gunnarson, a native of Sweden, had resided in Richmond for about a year and a half. Her obituary indicated that the body would be shipped to Jamestown for services and burial.
Emma's obituary in the Jamestown Evening Journal indicated that she had been ill for about two months and that her daughter Mrs. Milton A. Bissell from Jamestown was with her at the time of her death.
The pastor of the Zion Mission Church officiated at the funeral service and members of the Deborah society attended. David's older brother Martin Gunnarson was one of the bearers.
The paper also mentioned that her husband David Gunnarson and her brother Carl Dahlin from Syracuse were present.
Emma is buried in Section 15 lot 16 of Jamestown's Lakeview Cemetery. Her Uncle Gustaf Anderson, son in law Milton Bissell and brother in law Martin Gunnarson are also buried in Lakeview
Epilogue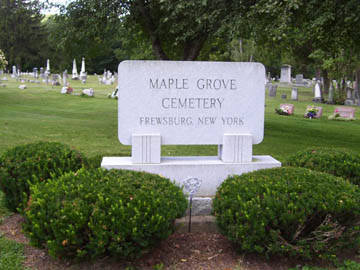 Anna Dahlin moved to her son Carl Dahlin's home in Syracuse NY after Emma's death. Anna died in 1937 at age 92 in the Swedish Old Peoples home of Frewsburg. The bearers at her funeral included her son Carl Dahlin and her son in law Milton Bissell. She is buried in Frewsburg New York's Maple Grove Cemetery [See inset]. Maple Grove is a small, well kept, cemetery about five miles from Jamestown. Her grave is among a bunch of Swedes from the Old Peoples Lutheran home [Cemetery records list it as Middle East Conference]. Anna does not have a headstone.
Elsa and her husband Milton Bissell moved from Jamestown to Phoenix Arizona in the late 1940's. The 1949 Jamestown Directory suggests that Milton Bissell owned the West Side Liquor Store but his residence was in Phoenix Arizona. Milton died June 4, 1963 in that city. His obituary said he practiced law in Phoenix since moving there 17 years ago.
It is unclear how long David Gunnarson remained in Richmond Indiana but his memorial card indicates he died February 8, 1952 in Phoenix Arizona. He is buried in Greenwood Memorial Park.
David's brother Martin remained in Jamestown and he died February 19,1955. Both he and his wife Esther are buried in Jamestown's Lakeview Cemetery.
Bibliographic Reference
1. "Jamestown" Swedish Press Magazine 79 Sept. 2003:18-19
2. "Jamestown News York " WWW. Wixipedia .org